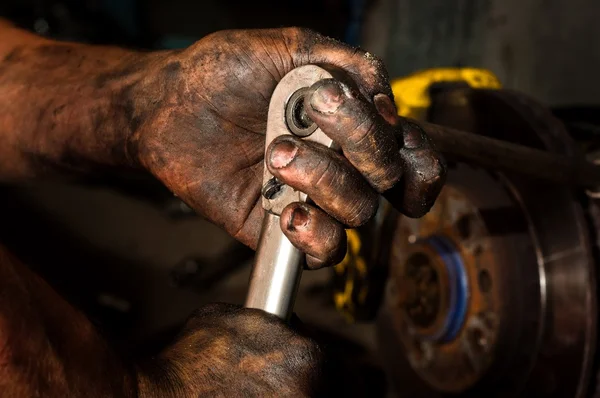 Mechanics work with dirty and oily car parts all day, leaving their hands covered with grease and grime. These can cause irritation and pain, making it hard for mechanics to do their work. If hands aren't taken care of with the most effective hand-cleaning products, it can lead to eczema or even contact dermatitis.
Mechanics need to do everything they can to protect their hands, and the only way to do that is to use the best hand soap for mechanics. You can trust the hand care specialists at Kutol to recommend the best soap for mechanic hands.
A Few Unique Ways to Wash Greasy and Grimy Hands
Typical bathroom hand soaps are great for general-purpose hand cleaning but are insufficient for the deep cleaning needed to rid a mechanic's hands of dirt and grime. There's no shortage of at-home remedies, but do they really work? 
One at-home method is to stir salt or sugar into a small amount of water. Using this mixture, rub hands together for 20-30 seconds and then rinse off with water and soap. 
Another way to wash grease from your hands is with oil. Put a small amount of baby or olive oil on your hands and rub them together for 15 seconds. Then, let the oil sit for a few minutes before washing it off with soap and water. If hands are still greasy, repeat the process one more time.
The Best Way to Clean Mechanics' Hands 
At-home methods may work in a pinch, but better hand care solutions are available for mechanics. Soaps containing scrubbers such as pumice, walnut shell, or synthetic scrubbers are highly effective for greasy, oily hands. These soaps provide 'grit' that helps break down the grease and oil accumulated throughout the day as a mechanic.
One of our effective soaps for mechanic hands is Kutol Pro's Red Blast with Pumice.  Red Blast is a heavy-duty, multi-purpose formula that removes tough soils, oils, grease, and tar in just one application. Simply put one pump of the solution on your hands, scrub for 20 seconds, and rinse with water for 10 seconds.
It is ideal for use in any industrial setting, especially automotive repair shops, and is shown to be more effective than leading national brands. Check out Kutol Pro's expansive product line for more heavy-duty hand soaps for auto mechanics.
After Work Hand Care
Washing hands is excellent for cleaning, but doing so repeatedly can dry out your hands and leave them more susceptible to injury. Kutol's After Work hand cream is a great way to prevent this. Our After Work Hand Cream contains Allantoin and Lanolin to help soothe and condition the skin. Use our After Work Hand Cream at the end of the day to soothe, moisturize, and restore dry hands. It moisturizes even the driest skin and will leave your hands prepared for the next day of work.
The Best Hand Soap for Mechanics
Although many at-home methods clean mechanics' hands, the best option is using Kutol Pro's heavy-duty hand soaps. There are several options to choose from, each designed specifically for different situations someone in an industrial/automotive setting might encounter. Check out our soil chart to determine which Kutol Pro industrial hand cleaner is best for the soils you and your employees are dealing with.
When it comes to the best hand soap for mechanics, the Kutol Pro Line has several premium options. Contact your Kutol rep to order or contact us for more information on our available soaps for mechanic hands.